Trimming windows is something that I really enjoy doing. It's the finishing touch and I tend to do that as the last part of a project. The sheet rock is primed and painted and the windows naturally look unfinished. Actually the whole room doesn't look complete.
https://encrypted-tbn2.google.com/images?q=tbn:ANd9GcS9A1gIr4YAHlD0vvEF1EDEOQrTqIB_8vpRo2Pmno4KxIHuLbCyTQ
Most of you will probably have heard of some of these window terms but in reality unless you are a designer or a builder, you wouldn't need to know them unless you are wanting to expand your knowledge. It does help you though if you are doing a project and are asked if you have a preference on the window stool or apron for example.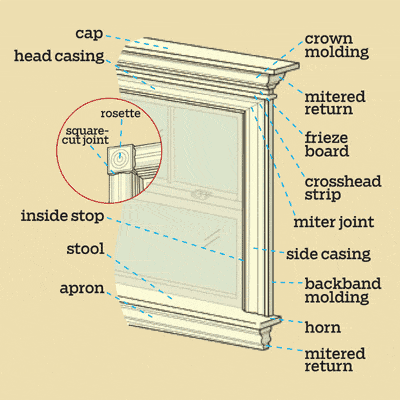 http://img2.timeinc.net/toh/i/g/10/interiors/11-whaddayacallit/00-window-trim.gif
When trimming windows there are many options of trim styles to choose from but depending on your choice, the installation will vary. Some trim can be applied with a butt joint yet others need to be mitered. You may also choose to have a built up profile made or use corner blocks.
https://encrypted-tbn0.google.com/images?q=tbn:ANd9GcRQ_3jatjtx_0-cO7gaMQZUOc5P2O6-ct1zm0DxWyAdBGmqQH89Xg
Sample of a built up profile which is very traditional.
https://encrypted-tbn1.google.com/images?q=tbn:ANd9GcQOOFt-c4h6e6S_E2gQJfXJ70LcDxH_M78R-JGiHwC_sxKe-bCyCw
Whatever trim style that you choose the tool below rates as one of my favorites for making nice neat tight secure joints. It is very easy to use and by drilling holes in the back side of the trim and applying glue and screws, you end up with a joint that stays tight for years to come.
http://images.meredith.com/wood/images/2010/05/p_FacePhoto-A.jpg
http://hci.frontstepsmedial.netdna-cdn.com/wp-content/uploads/2010/11/Kreg-Jig-Screw-Installation.jpg
Now for the two other tools that make trimming windows a breeze.
A cordless finish nail gun. It shots nails exactly where you need so all you have to do is hold the wood trim where you want it and shoot. Oh do I remember doing it before. Hammer and nail and trying to hold the piece steady as you nailed away. Not so fun at times.
http://mserv.toolking.com/catalog/product/f/i/file_20_4.jpg
For making cuts and which I don't think I could live without- a 12″ dual bevel, sliding compound miter saw. It provides fast accurate cuts in many directions and angles. When I started years ago I had a hand saw miter box (see below) and oh what fun it was.
https://encrypted-tbn2.google.com/images?q=tbn:ANd9GcRT3CByXJHZizC5woZoSgY3jsxQ8tIft5KlfJ96Su3-5bWxjo93
The reason was I couldn't afford a power miter box when I first started but it wasn't too long after though.
https://encrypted-tbn3.google.com/images?q=tbn:ANd9GcRhhtYBkronjXYOHf4MBLEIdPzKogASwpcNu9fJImeXVXU-vP4w
The options for trimming windows is quite varied from a very simple square board to a built up profile.
modern bathroom design by dc metro architect Brennan + Company Architects
Study your options, view other homes, talk to designers and your builder because you will have this trim to enjoy for years to come.
https://encrypted-tbn1.google.com/images?q=tbn:ANd9GcQazt1OtoeQ1NcNwo2woIe_ei4m9u7O3pxW1uv7Qd5rhNRXi-M_Jw
In another post we'll look at trim work from a different angle. Would you like natural wood, stained or painted and what you can use for your options.
Add to Flipboard Magazine.